A new look for Notes from a Cape Town Botanist
We're giving away our next prize – membership to the Botanical Society of South Africa (and all the benefits that go with it). To spice things up a bit, we've got another fantastic prize! We're giving away a WWF South Africa The Wine Kingdom book. Find the answer in this blog post and enter our easy competition just below the blog post.
Notes from a Cape Town Botanist was born on a bench on a cold spring day at London's Royal Botanic Gardens Kew, inspired by the prominent botanist, conservationist and author Sara Oldfield, then Secretary General of Botanic Gardens Conservation International. The blog was started with the aim to communicate to a global audience the international importance of South Africa's Cape Floristic Region (CFR). It also reports on the conservation challenges the CFR faces, the vital research work taking place to better understand its ecosystems and what is being done to conserve it for the future.
Notes from a Cape Town Botanist is now three years old. Since its inception it has grown and blossomed with support from its readers near and far. Its content has been read by more than 100,000 people from across the globe. In South Africa, it has been published in the Cape Argus newspaper and online by City Press. It has led to interviews with the Citizen Newspaper and a live online radio interview with Johannesburg's Radio 702 about the 2015 Cape fires. I have been overwhelmed by the response from around the globe. Three years on it is time for Notes from a Cape Town Botanist to have a shiny new look that reflects its readership and takes it forward into the future.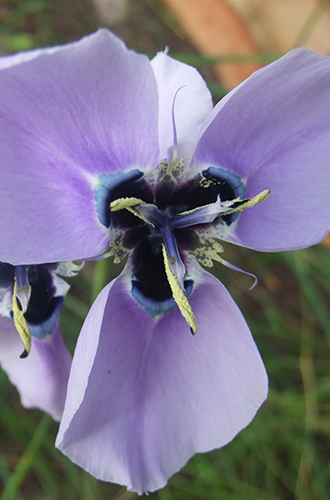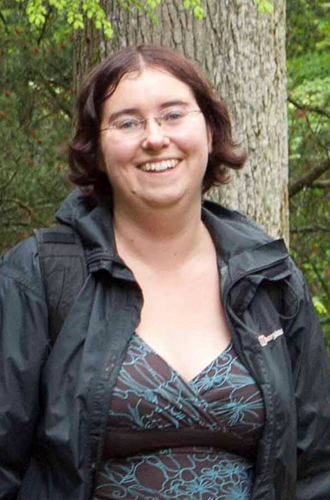 Top: Moraea gigandra. Above: Zoe Poulsen
LoveGreen have taken on the task of revamping and rebuilding the site and I hope you'll agree that they have done an amazing job! LoveGreen is a new communications business based in Cape Town and the Overberg, founded with the aim of "getting 'green' messages out there". They specialise in communications from blogging, online marketing and web design integrated with social media for business and the non-profit sector including conservation, eco-tourism and sustainable agriculture.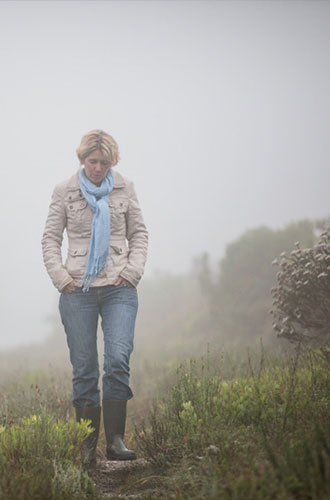 Top: Heather D'Alton out on Flower Valley Farm. (Photo: Flower Valley Conservation Trust) Above: Disa purpurascens  (Photo: Heather D'Alton)
The LoveGreen Team are Tina Vlok and Heather D'Alton, who bring to the table considerable experience and expertise. Tina (formerly of Berry Web Design) is the resident web guru, with considerable experience in web design for the conservation non-profit sector and beyond. Heather, a journalist by trade, has been the Communications Manager for Flower Valley Conservation Trust for a number of years and also works with the Agulhas Biodiversity Initiative. Both are immersed in the landscapes of the CFR. It has been a pleasure to work with them and they are acknowledged for their great ideas, skill and hard work.
Notes from a Cape Town Botanist also has a shiny new logo, designed by artist and conservationist Alouise Lynch. Alouise is based in the small Overberg village of Napier, where she works from her home studio. With a background in the conservation sector and training as a game ranger, she specialises in wildlife art and was therefore the perfect choice to design a new logo for the blog.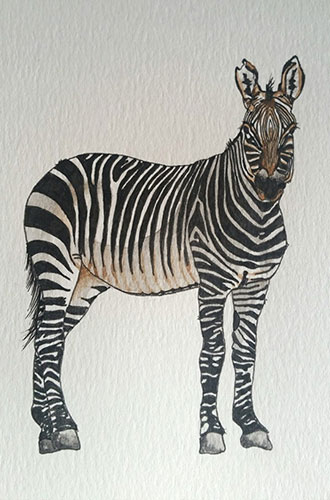 Top: Alouise and her beautiful son. Above: Zebra painting by Alouise
The new logo encompasses flora and birdlife from the fynbos of South Africa's Cape Peninsula, one of the biodiversity and endemism cores of the CFR and home of the Notes from a Cape Town Botanist blog. It includes the King Protea (Protea cynaroides), South Africa's national flower. Also present are Leucospermum conocarpodendron subsp. viridum, a common shrub on the lower slopes of Table Mountain; Aristea africana, a species common on flats and slopes throughout Table Mountain National Park and Witsenia maura, a striking member of the Iridaceae family found in wetlands from the Southern Peninsula to Caledon.
Last but not least is Erica verticillata, a species lost to cut flower harvesting and urbanisation from the Cape Flats, now reintroduced from cultivated stock at several nature reserves across the Peninsula and a flagship for conservation of Cape Flats Sand Fynbos. Also present are the Cape Sugarbird and Orange Breasted Sunbird. Both are endemic to the Fynbos Biome and are important pollinators for a plethora of plant species here. I'd also like to thank Alouise for her stunning artwork – It is a joy. She works to commission and for any commissions secured through Notes from a Cape Town Botanist (use the code: #fynbosart), 10% will go back to the site.
Ever visited any of our National Botanical Gardens? If so, you'll know how the beautiful sights, sounds and fragrances in these gardens can lift your spirits. With this membership you get free access to Kirstenbosch, Harold Porter, Walter Sisulu and the other wonderful SANBI National Botanical Gardens (located in seven of South Africa's nine provinces), the society's quarterly journal (Veld & Flora), the opportunity to participate in Society activities, fynbos seeds (available to family and individual members) and much more.
We're also giving away a

WWF South Africa

The Wine Kingdom book
This is a beautiful coffee table book worth R456, celebrating conservation in the Cape winelands.
THE COMPETITION IS NOW CLOSED. 

OUR WINNERS:
WINNER BOTSOC MEMBERSHIP:
Bea Loots
WINNER WWF THE WINE KINGDOM COFFEE TABLE BOOK:
Shell Hatherly
Competition Terms & Conditions:
Competition opens on 24 August and closes on 31 August 2016.
Winner will be announced on 1 September 2016.
Winner will be randomly selected.
Individual BotSoc membership, valued at R425.
Winner to be a non-member of BotSoc, aka a new member.
Membership to be claimed by end September 2016.
Reference 'Notes from a CT Botanist' when redeeming membership from BotSoc head office on 0217972090 or info@botanicalsociety.org.za.
WWF Coffee Table Book: 192-page hard cover coffee table book titled: The Wine Kingdom: Celebrating conservation in the Cape Winelands is valued at R 456 and prize include delivery – we'll arrange collection if you live in Cape Town. If the winner can't collect, the book will be posted via SA Post Office.
Taking Action
There are many environmental organisations based in Cape Town and beyond that require the services of volunteers to undertake their work. So if you have a little time to spare please get involved.