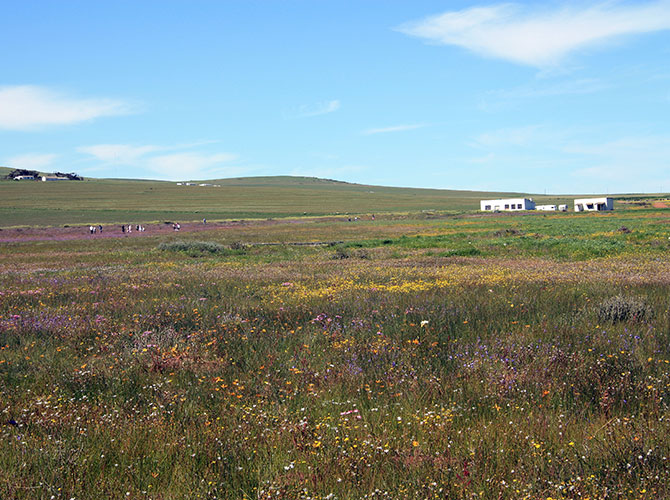 Exploring the West Coast on one leg
One tends to take the functionality of the human body for granted. Life goes on, one day to the next until suddenly something changes, pulling you up short and forcing you to re-evaluate. One fateful day in August 2012 I was knocked down by a car, thanks to the strange Capetonian paradox of a traffic light that was green for cars and pedestrians at the same time. Suddenly for nearly two months I was to be a parcel, only able to go where I was taken. For the next six months climbing mountains was forbidden.
Spring in the Cape with its internationally-renowned floral diversity is a sight to behold and a time that few botanists working in the region have a moment to draw breath. That year it was a time of immense frustration with the natural world seeming so near and yet so far away.
Above: Babiana rubrocyanea. Photo © Zoë Chapman Poulsen.
To my sheer joy and relief, South Africa's West Coast proved easily accessible with a little determination and effort. Some caring friends took me on a journey, just an hour's drive north of Cape Town. The West Coast region runs from Melkbosstrand in the south to Velddrif in the north and is home to around 1,200 species of flowering plants. As spring arrives, with lengthening days and rising temperatures, a plethora of species burst into bloom.
We started the day off at Tienie Versveld Nature Reserve. This small 20 ha reserve used to be part of the farm 'Slangkop' but was donated to the National Botanical Institute in 1958, now the South African National Biodiversity Institute (SANBI), in recognition of its conservation significance.
This land is a fragment of West Coast Renosterveld, a Critically Endangered vegetation type that occurs on fine-grained shale and granite derived soils. Owing to its high levels of soil fertility more than 70% has been ploughed for agriculture leaving that which remains fragmented and in great need of effective custodianship for the future.
Above: Babiana ringens. Photo © Zoë Chapman Poulsen.
Renosterveld is known for its geophyte diversity and in spring from August through to October Tienie Versveld becomes carpeted with flowers from delicate pale purple Romulea tabularis to bright orange Ixia and intense red Drosera cistiflora. It is truly a sight to behold and well worth a while of anyone's time while en route to the small town of Darling.
From there we headed northwards to West Coast National Park. The park lies adjacent to the azure blue waters of the Langebaan Lagoon, fringed by extensive white sandy beaches. The area is classified as a RAMSAR site, proclaiming it a wetland of international importance.
The terrestrial component of the park is predominantly strandveld but there are also some areas of Hopefield Sand Plain Fynbos. The main attraction to visitors during spring is the extensive and colourful carpets of daisies in the Postberg section of the reserve.
Above: Sand dunes and spring flowers in West Coast National Park. Photo © Zoë Chapman Poulsen.
However, a little exploration revealed some less well-known gems. One of the most curious members of the Iridaceae family is Babiana ringens which grows on sandy flats from Clanwilliam to Albertinia and is most common after fires.
This spectacular red flower has a strange, edible stick-like appendage that tastes like apples. This gives it the slightly unfortunate common name of the "rat's tail". The intense red colour and copious nectar supply of the flowers gives us a clue as to what purpose is served by this bizarre structure.
The answer is that it is there to serve as a perch to facilitate pollination and the main pollinator is none other than the beautiful sunbird. These beautiful, iridescent birds will visit regularly during the flowering season of this species. This is truly one of the most curious phenomena of nature to be observed within South Africa's Cape Floristic Region.
Taking Action
There are many environmental organisations based in Cape Town and beyond that require the services of volunteers to undertake their work. So if you have a little time to spare please get involved.