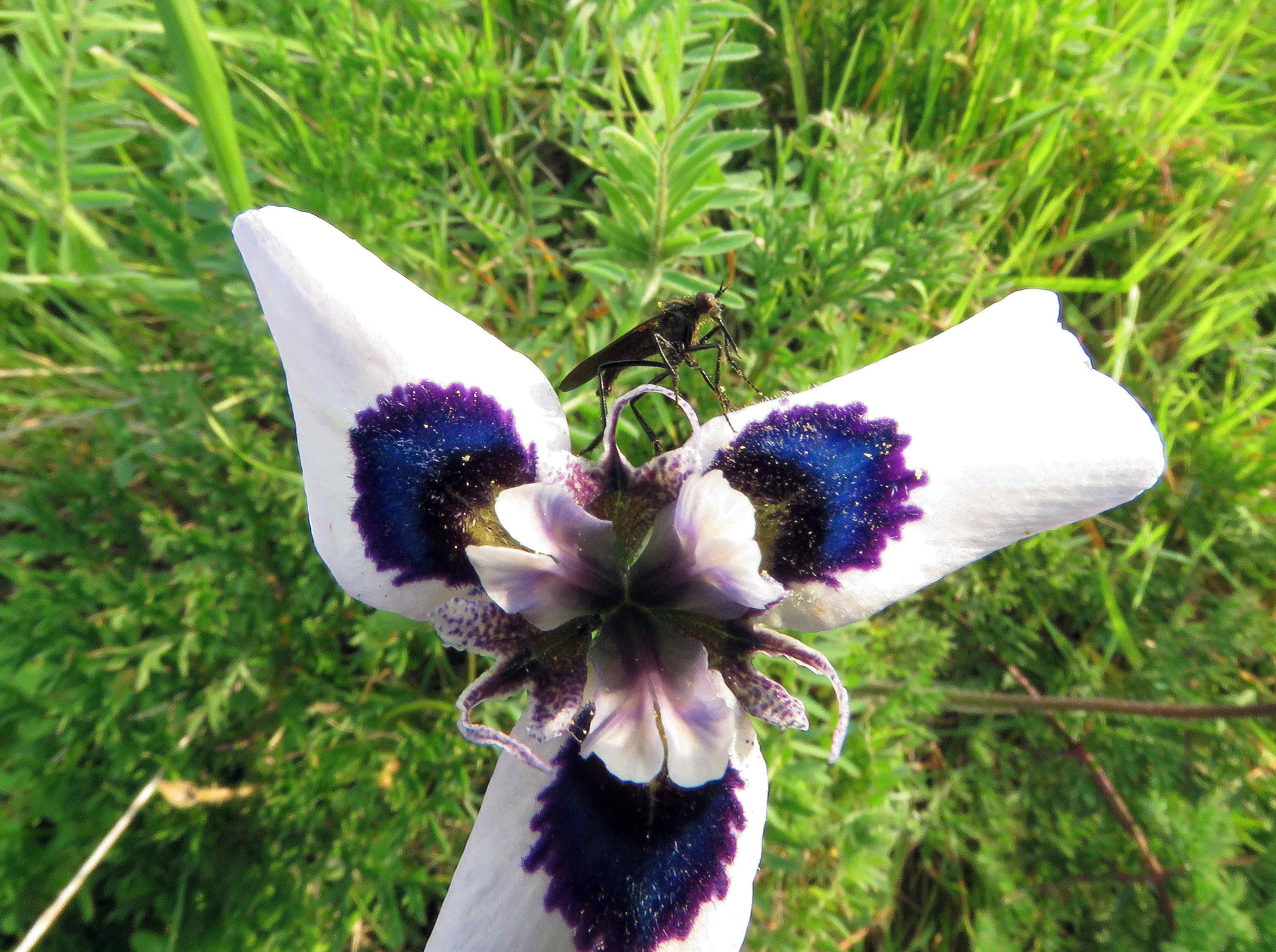 Moraea aristata: A new home on Rondebosch Common
There are many stories of species only just holding on against extinction. One that stands out is that of Moraea aristata.
This enigmatic Irid has long been admired. First described in the mid-18th Century by colonial botanical explorers, it quickly found its way into European collections, many of which still persist today.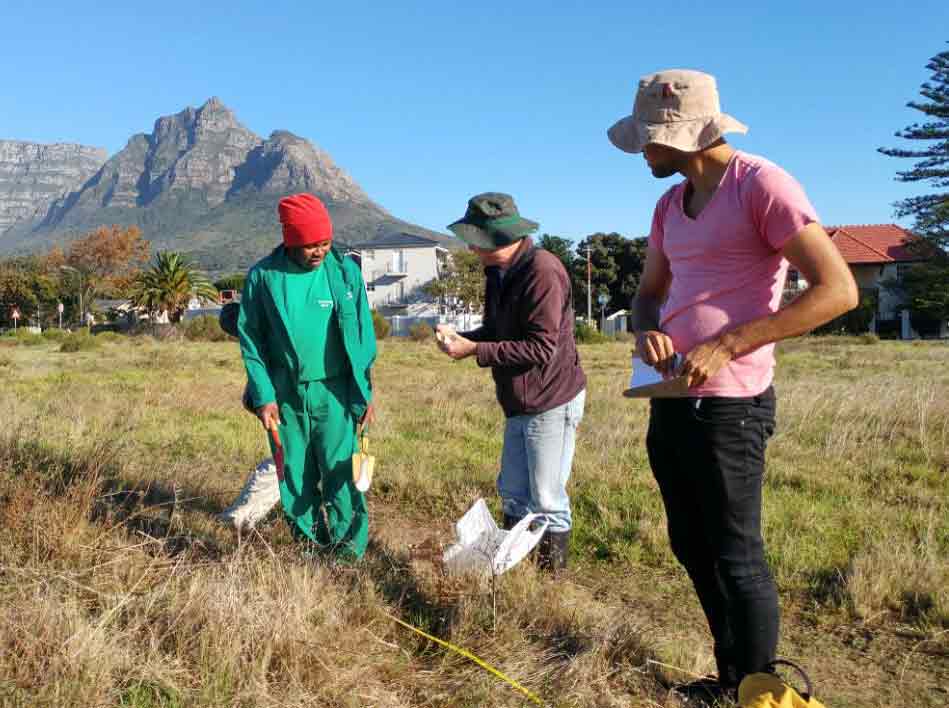 Above: Officials from the City of Cape Town, Kirstenbosch and the Friends of Rondebosch Common laying out grid plots for planting. Photo: Rupert Koopman.
Historical records indicate this Peacock Moraea has always been a narrow endemic. Its natural distribution is the flats adjacent to Table Mountain, between the present-day Cape Town CBD and Rondebosch.
The habitat of Moraea aristata is classified as Peninsula Shale Renosterveld, and also debatably the ecotones between this and Cape Flats Sand Fynbos – both endangered vegetation types. Today only a small and highly augmented population persists within the grounds of the South African Astronomical Observatory.
Moraea aristata is listed on the Red List of South African Plants as 'Critically Endangered'. Less than a hundred individuals persist in unmown lawn near the Astronomy buildings in four main patches. There is unnaturally high porcupine activity and poor levels of successful pollination. Further, large amounts of seed harvested over a fifty-year period have undoubtedly led to further population instability.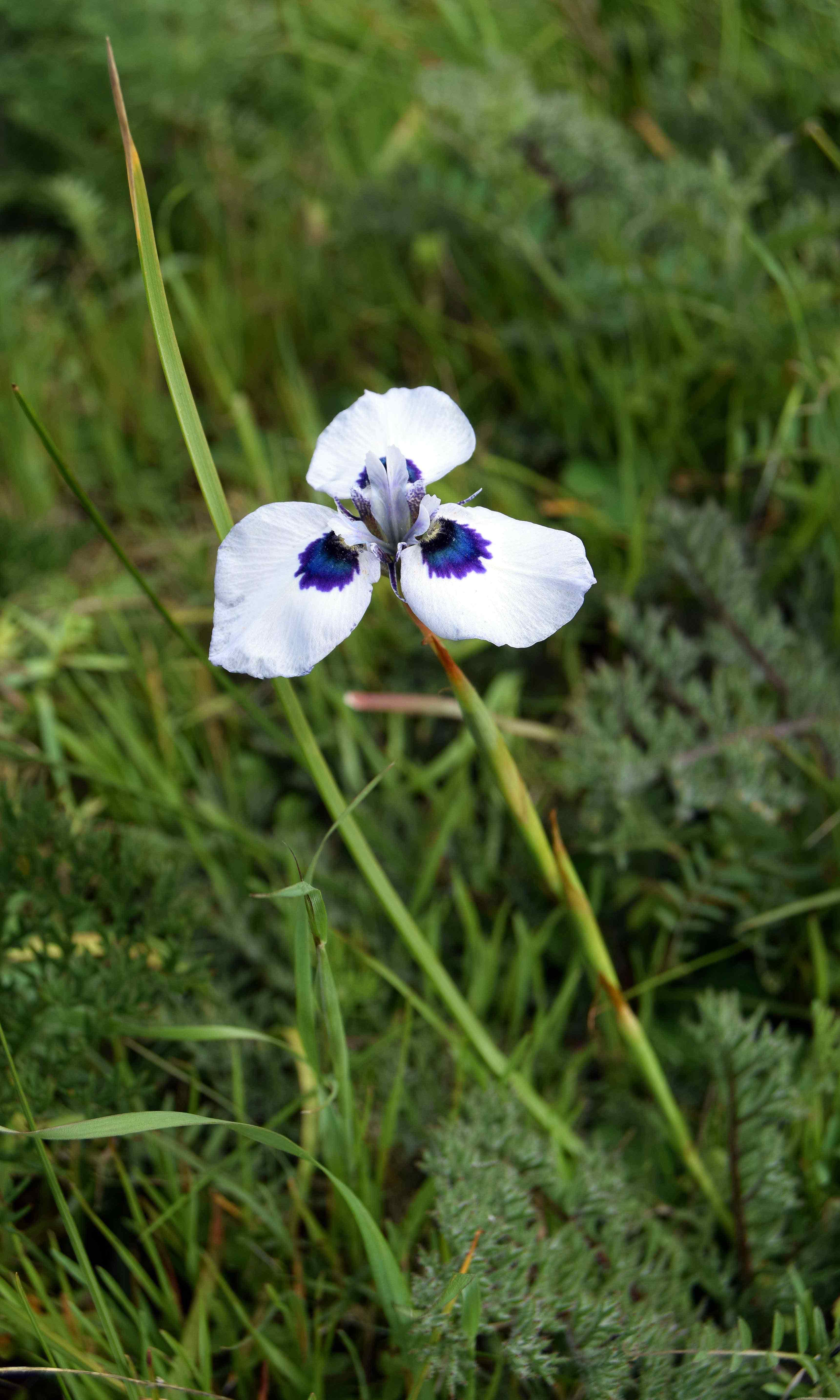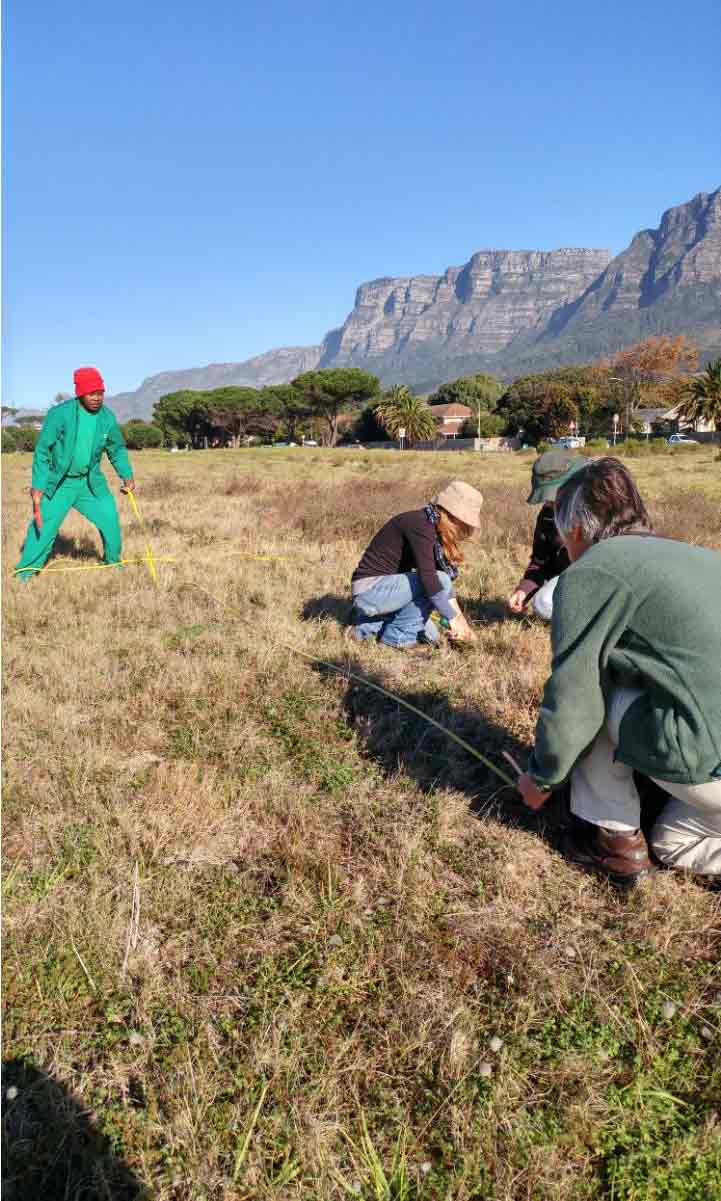 Top: A third of corms introduced to Rondebosch Common in May flowered the following August and September. Photo: Graham Duncan. Above: Two plots were planted on Rondebosch Common, in habitat that closely matches the community of plants that it grows with in Observatory. Photo: Rupert Koopman.
The habitat in Observatory is a naturalised lawn, and cannot be considered truly wild. Moraea aristata needed a new home.
Luckily one last habitat remnant exists within the historical range of Moraea aristata. Rondebosch Common: A 40 Hectare conservation area with a unique community of lowland plant species.
However, species introduction is not a simple task. It is a scientific experiment – and more likely to fail than succeed, and accompanied by a set of risks. In considering a species introduction one has to answer many things: Is the introduction site a suitably matching habitat, within known distribution? Is there a community of structural, associated species to support the introduced species? Would this species establishing displace or harm the existing community? What are the risks?
With the blessing of the Friends of Rondebosch Common, I convened the relevant authorities and experts. We made a habitat assessment of both sites and decided the rewards of potentially establishing Moraea aristata on the Common were high, and the risks low. With the dynamism of the Friends who catalysed this project, we planted out 150 corms in two plots and a test transect.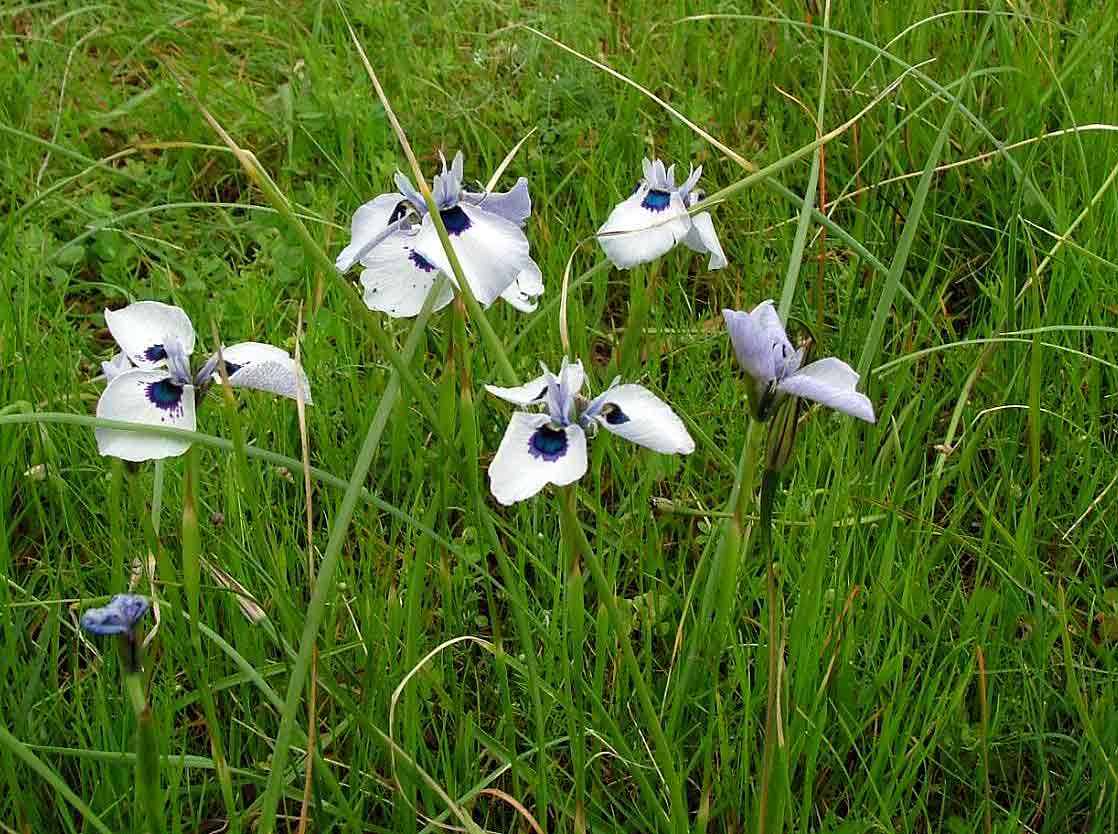 Above: Moraea aristata makes many cormlets on short stolons. This clonal clump was pictured in its habitat at the South African Astronomical Observatory. Photo: Geert Sprangers.
The corms were donated from stock grown by bulb master Graham Duncan of Kirstenbosch. Graham collected seeds in the 1980s to secure a backup population to secure the species.
This August and September around a third of the corms flowered over a period of three weeks. Potential pollination was observed by an unidentified monkey beetle (Hopliini: Scarabaeidae). A major hurdle was shown to have been overcome when plants were observed in early October forming seed pods – a sign of successful reproduction.
Moraea aristata will have been considered successfully established if it persists for three successive generations without human interference.  Much work still needs to be done in the coming season to secure a successful establishment.
The Moraea aristata Introduction Project shows what can be accomplished by conservation partnerships. It is a flag bearer for the potential of future restoration at Rondebosch Common.
Thanks to partners: Kirstenbosch Threatened Species Programme, SANBI; Nature Conservation Department, City of Cape Town.
Special acknowledgement to Joanne Eastman, Graham Duncan and Clifford Dorse.
Taking Action
There are many environmental organisations based in Cape Town and beyond that require the services of volunteers to undertake their work. So if you have a little time to spare please get involved.