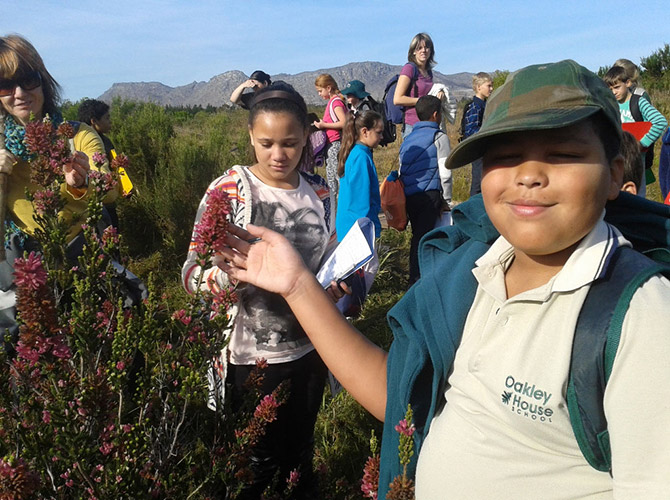 Tokai: The Outdoor Classroom
Protect our earth today for our children's tomorrow.
"Let Nature be your teacher." – William Wordsworth
This week at Notes from a Cape Town Botanist, we have a guest post from Environmental Educator Wendy Hitchcock about some of her wonderful work at Lower Tokai Park. Today she writes about exploring this wonderful area with grade four learners from Oakley House, a school catering for children with special needs.
The first aim of the outing was to develop map-reading skills and looking for landscape features to orientate themselves in the Park. The second was to introduce them to the idea of biodiversity and what it means.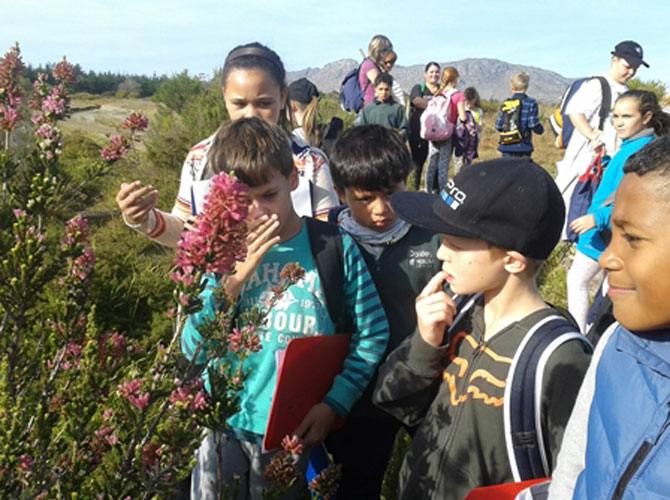 Children from Oakley House School looking at Erica verticillata
We started by connecting with the big compass in the sky and checking out the four principal points of the compass. I was very impressed that all of the children knew that the sun rises in the east and sets in the west.
In my experience, many youngsters of today don't bother to register such minor details of the movement of the sun.  Everyone participated in filling in the map worksheet, connecting the features of the landscape that they could see to the map and drawing in symbols to represent them.
We then set off in a northerly direction until we found a gravel path and followed it to wetlands known as Soetvlei. I asked them what extinct means and they could tell me all about dinosaurs. I told them about a species of Erica growing next to Soetvlei that nearly became extinct. That really caught their attention. They were fascinated to learn that plants can also become extinct. They loved the Erica which was in full bloom when we were there.
This particular Erica is Erica verticillata, which became extinct in the wild on the Cape Flats during the early twentieth century as a result of urbanisation and overharvesting for the sale of cut flowers. Thanks to the efforts of colleagues at Kirstenbosch National Botanic Gardens it has now been reintroduced into the wild at several sites, including at Lower Tokai Park.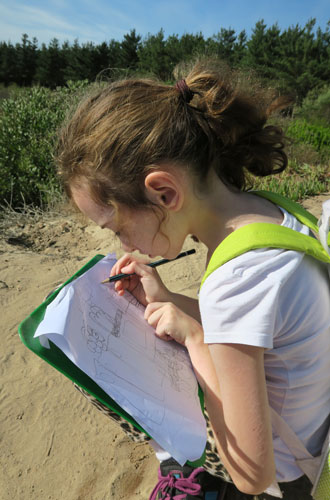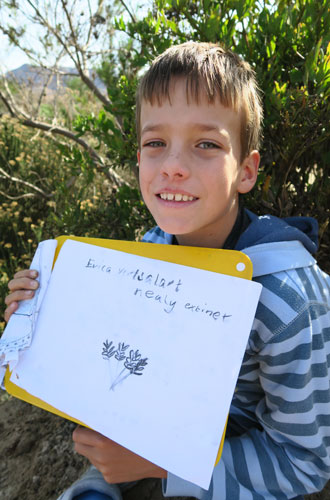 Children from Oakley House School with their fynbos artwork.
This young man would not stop asking me questions about Erica verticillata and of course, I loved answering them. On our walk back we compared the pine plantation to the fynbos area and tried to count the number of different species in each. It was clear to them that fynbos is not able to grow under the pine trees. They saw that there were no plants under the trees and lots of plants in the fynbos. They also saw that the pine plantation is devoid of food for animals and habitat for them to live in.
Our final activity was to find a piece of charcoal from a burnt plant and sit on the mound and choose a view to draw. Drawing is such a natural way of expressing ourselves and this group clearly responding very well to having time to do that.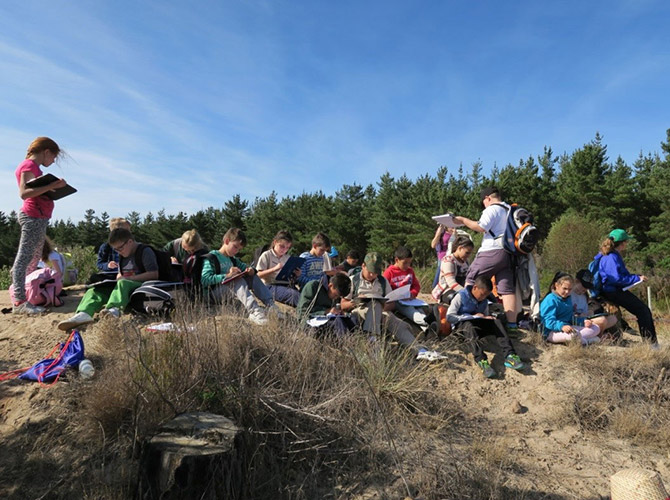 Children enjoying Lower Tokai Park.
Thank you Gr 4s for a wonderful day at Tokai Park.
For more information about the environmental education work of Wendy Hitchcock, please see her website: www.wendyhitchcock.co.za
Taking Action
There are many environmental organisations based in Cape Town and beyond that require the services of volunteers to undertake their work. So if you have a little time to spare please get involved.