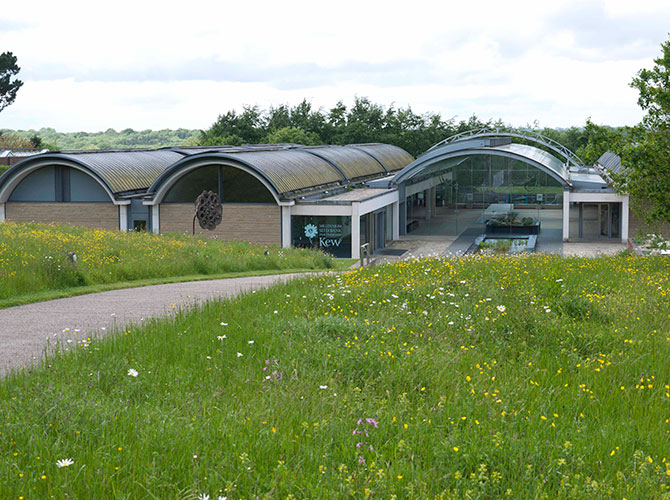 Conserving the Cape flora: The role of ex-situ conservation
This week Notes from a Cape Town Botanist is reporting from the Northern Hemisphere in order to bring you the lowdown on some of the world class and ground-breaking work to conserve the Cape flora going on in other parts of the world.
Far away from the green and pleasant land of Sussex in southeast England, 7,000 miles away one of the world's biggest biodiversity disasters is quietly unfolding down in South Africa's Cape Floristic Region (CFR). Rampant and uncontrolled housing development, agriculture, mining, forestry and the spread of alien invasive species is leading to an extinction crisis almost unparalleled elsewhere.
The statistics speak for themselves: Just within the area of the City of Cape Town 13 plant species are already extinct and a further 319 species are threatened with extinction according to the Red List of South African Plants.
Given that habitats of many of these species have already been lost or are threatened imminently with destruction a multifaceted approach is required, both conserving species in-situ as well as beyond their natural habitats. This leads us to ask: what are we doing to address this challenge?
One of the main pieces of legislation aiming to coordinate targeted efforts to conserve the world's imperilled floras is the Global Strategy for Plant Conservation (GSPC). This forms part of the Convention on Biological Diversity (CBD) which is a legal framework for the conservation of all biodiversity to which 188 countries are signatories.
Key aims of the GSPC are to by 2020 have at least 75% of the world's known threatened plant species conserved in-situ, 75% of threatened plant species in ex-situ collections and at least 20% available for restoration and recovery programmes. It's a tall order but one that has been embraced by the global scientific and conservation community at a variety of different levels.
South Africa is a global leader in developing innovative infrastructure and policies to conserve its threatened plant species and their ecosystems. The South African National Biodiversity Institute (SANBI) was created in 2004 to conserve the country's rich biodiversity.
SANBI's network of nine National Botanical Gardens (NBGs) plays a critical role in acting as custodians of the country's flora, with around 8,500 indigenous plant species held in living collections representing more than one-third of South Africa's native flora.
They also conserve extensive areas of natural vegetation such as the Edith Stephens Wetland Park on the Cape Flats and Tienie Versveld Nature Reserve near Darling on the West Coast as well as contributing to environmental education and awareness at both a local and global level.
Beyond South Africa's borders, SANBI is both a participant and driver of conservation of the Cape's flora through international networks with conservation-focused NGOs and Botanic Gardens.
One of the most notable examples is Royal Botanic Gardens Kew's Millennium Seed Bank (MSB). RBG Kew funds several staff positions at Kirstenbosch NBG in Cape Town who are responsible for the collection of seeds of threatened species in the wild, processing and sending them to the UK where they are stored in the vaults of MSB for use in future conservation efforts.
MSB is the world's largest ex-situ plant conservation initiative with the aim of banking seeds from 25% of the world's plants by 2020 in collaborator with a network of local partners around the world. Seeds are dried and stored at a chilly -20C in order to facilitate long-term preservation.
Seeds from the collections are then used for restoration projects in degraded habitats all over the world, community-based conservation efforts of plants important for food and medicinal use and providing seeds for use in research to inform future conservation practices.
Efforts by the world's botanic gardens are by no means limited to living and seed collections. Scientists are working hard to find ways of preserving other forms of plant material including pioneering techniques for long-term storage of pollen and other genetic material of plants.
RBG Kew has been working since 2000 to develop methods of preserving plant material through cryopreservation, which involves storing living material at temperatures of down to -196C in liquid nitrogen. Findings of this research show promising results in conserving threatened mosses and liverworts.
Scientists from RBG Kew's Jodrell Laboratory have also been working with both the Universities of Cape Town and Johannesburg to store samples of DNA of threatened species from the Cape. This initiative has shown great promise to date and the material is in great demand for both taxonomic and conservation-focused research programmes.
Despite all this ex-situ conservation efforts do have their drawbacks and cannot be used as the only solution to conserve threatened plants and their habitats. These projects and partnerships have to happen in association with efforts to conserve plants in their natural habitats rather than only at the individual species level.
Once an ecosystem has been destroyed it is gone forever and even with the best will it cannot be brought back with its original complexity and the full suite of ecological processes. Efforts need to be united around the globe to ensure the world's Biodiversity Hotspots such as the Cape Floristic Region are still there for future generations.
Further Reading
Fry, C (2006) The World of Kew, BBC Books, United Kingdom
Oldfield, S (2007) Great Botanic Gardens of the World, Botanic Gardens Conservation International in association with New Holland Publishing, United Kingdom
Raimondo, D. Grieve, K. Helme, N. Koopman, R & Ebrahim, I (2013) Plants in Peril: 100 of South Africa's Highly Threatened Plant Species and the People Protecting Them, South African National Biodiversity Institute, Pretoria, South Africa
Taking Action
There are many environmental organisations based in Cape Town and beyond that require the services of volunteers to undertake their work. So if you have a little time to spare please get involved.