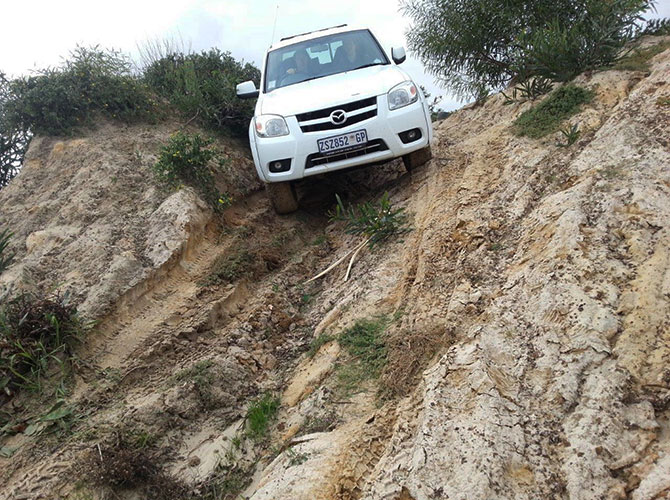 Learning the Art of the 4×4
"Ah no….it isn't….it IS….catch it…quick! Before it disappears!". Nothing like the sight of a tick trundling across the inside of the windscreen to bring a person sharply to their senses first thing in the morning.
Clearly, there was a small stowaway that got away after our research group's bakkie's latest field trip. With some highly professional multitasking, my colleague dispatched our resident blood-sucking beastie and calm was restored once more. It was very early on a chilly Cape Town winter morning and we were heading north to the West Coast suburb of Melkbosstrand to do a 4×4 course.
Now the work of us botanists does have a tendency to take us off the beaten track into some remote places on all manner of roads. I've been shaken and not stirred up mountain and down kloof with all manner of cavernous potholes and dongas, slithered perilously across soggy clay mud and nearly been stuck never to be seen again down a sandy track in a hidden corner of Namaqualand. We've clocked up adventures aplenty in the name of research, conservation, knowledge and exploration.
In consequence, to ensure safety in our endeavours, we were set the challenge of completing an introductory 4×4 course. It was with great excitement and a touch of nerves that we headed northwards to learn out high range from low range and diff lock from traction control.
We were to be put through our paces and taught the ropes while under the highly experienced supervision of Trevor Knutsen from All Terrain 4×4. Our trusty steed was our research group's bakkie which travels all over the country during fieldwork with various members of the team.
My Namibian colleague was cool, calm and collected with plenty of experience under her belt and keen to learn more about the 'whys' behind the 'dos and don'ts'. I with little experience of all-terrain driving was a little more nervous and not quite sure what to expect.
Health-related coordination problems meant that getting my driving licence was a challenge, proving wrong my first instructor who said I was "too disabled" to learn to drive. It was with a little fear and trepidation that day that I was standing up for the challenge to move my skills as a driver to the next level.
We met Trevor and began the theory part of the course over a good strong cup of tea at Melkbosstrand Padstal. Our welcoming committee was a pair of white mallard ducks, who pottered confidently around visitors' feet among the delicious culinary goodies in the hopes of a few leftovers dropping from the heavens.
After a good introductory grounding without further ado, we headed out to Melkbos 4×4 trail to put theory into practice. The 4×4 trails here were the perfect training ground, offering everything from deep sand to clay, dongas, standing water, slopes and cambers aplenty to test our skills and build confidence on a variety of different terrains.
We started from the bottom upwards, with some practical guidance on getting the right tyre pressure for the right terrain and then we were off on the course. Under Trevor's watchful eye and calm and patient guidance, we learnt how to tackle various different obstacles, starting first with driving through thick sand, how to get your vehicle out when stuck and then building up to driving up and down steep, rocky and undulating slopes.
At times only three wheels were on the ground, which was a little scary for the uninitiated, but it is extraordinary the stability and flexibility of the vehicle to deal with the terrain. It took a while to adjust to the capacity of what the car could do and what was not possible, but as the day went on we learnt to understand how it moved over difficult terrain and how to choose the right 'line' through an obstacle.
It was with great satisfaction that the day ended, both of us proud of what we had achieved and now with newfound skills to take with us on our field trips and other future travels. I look forward to what will come next.
For more details on the 4×4 course we took check out:
http://www.allterrain4x4.co.za/
Taking Action
There are many environmental organisations based in Cape Town and beyond that require the services of volunteers to undertake their work. So if you have a little time to spare please get involved.