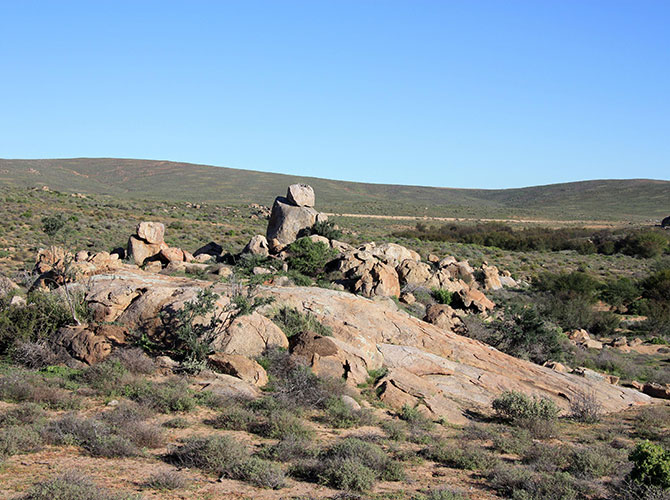 Life in miniature: Solving the mysteries of Biological Soil Crusts
So what do a tuna tin, a paint scraper and several thousand sosatie sticks have in common? Confused? All are important tools of the trade in undertaking research into biological soil crusts. Last year I spent two months in Namaqualand assisting a German colleague with her research work and discovering that there is far more than meets the eye to these tiny members of the Succulent Karoo plant community.
Biological soil crusts (BSCs) are a community of photosynthetic cyanobacteria, lichens and mosses that live on the soil surface and can occur in arid and semi-arid ecosystems all over the globe. They grow underneath and in the interspaces between higher plants in relatively sparsely vegetated areas, most commonly on cooler south-facing slopes on fine-grained soils.
Above: Vygie. Photo © Zoë Chapman Poulsen.
BSCs play an important role in the ecology of the ecosystems in which they reside. They can be the dominant source of nitrogen in the system, to the benefit of vascular plants and other organisms such as microbes. BSCs also fix large amounts of carbon. They are also important in trapping nutrient-rich dust and in reducing both wind and water erosion. Despite this, BSCs are a little-understood and commonly neglected component of Namaqualand's plant diversity.
For the duration of the project we lived and worked from a small cottage on the farm of Soutfontein in a very rural corner of Namaqualand. The region of Namaqualand comprises part of South Africa's Northern Cape and extends from the small town of Vanrhynsdorp in the south to the Gariep River and Namibian border in the north. It is a winter rainfall desert that comprises part of the Succulent Karoo.
The majority of the area receives less than 150 mm of rainfall per year with occasional snowfall in the higher altitude parts of the region such as on the Bokkeveld Escarpment adjacent to the Hantamsberg. The latter is known as 'kapok' by the locals, meaning 'cotton' when translated from Afrikaans. Moisture from precipitation is further supplemented by coastal fog and dewfall, even during the summer months.
Top: Agama. Above: Quiver tree (Aloidendron dichotomum). Photo © Zoë Chapman Poulsen.
Namaqualand has an exceptionally diverse flora and is thought to harbour approximately 10% of the world's c. 10,000 succulent species. It also has an unusually high diversity of geophytes. It is considered to be a part of the Greater Cape Floristic Region.
The area also has exceptionally high levels of plant species endemism, with 40-50% of its flora occurring nowhere else in the world. In spring after winter rain the desert bursts into bloom with carpets of annuals and geophytes as far as the eye can see, drawing in visitors from all over the world.
Life in this amazing desert is rugged, to say the least. We were living just over an hour's drive from the small town of Garies along a pot-holed, donga-filled dirt road which after the rain would turn to thick clay akin to driving in snow. At times the road would meander off into the veld to avoid water pooled in salt pans where avocets would gather. Electricity was available for one hour a day as an ancient diesel generator would cough and rattle into life ready for 'shower time'.
Above: Ruschia spp. Photo © Zoë Chapman Poulsen.
We were also treated to the fantastic and warm hospitality of all the local farmers, whose main livelihood was farming Karoo lamb. The meat from this region is perceived as a rich delicacy in restaurants as far away as London owing to the unique 'spicy' flavour of the meat derived from the veld.
After long days working in the field attendance of dinner or tea with the landowner was considered obligatory and we spent many happy evenings enjoying good company and wonderful food. As we drove home late at night we were often treated to sightings of nocturnal wildlife such as nightjars, bat-eared foxes and numerous bokkies.
This more than made up for the paucity of fruit and vegetables available in the local supermarket. Once a week on a Wednesday in Garies the 'Up to Date Vegetables' truck would pull up in the centre of town to offload its very small delivery.
Everyone would swarm to the shop and the already rather aged produce would march out the door immediately. One week we were lucky enough to be there to purchase the only red pepper delivered that week! Anyone in need of 'rarer' commodities such as spinach or celery would have to go on a long expedition northwards to the town of Springbok, more than 100 km away.
Top: White vygie. Above: Sosatie sticks. Photo © Zoë Chapman Poulsen.
On our days off we would take ourselves off to explore other parts of this extraordinary desert. One day brought us to the Kamiesberg Mountains, east of Garies and over to the small town of Kamieskroon to the north.
This spectacular range of granite inselbergs has fynbos and renosterveld on the upper slopes with the highest peak of Rooiberg towering 1,700m asl. above the surrounding plateau. Access was via a hair-raising, narrow and vertiginous dirt road which put my limited driving experience to the ultimate test.
We also took a day trip to the small coastal Namaqualand town of Hondeklipbaai. This place is billed to be 'a thriving coastal resort' by the regional tourist information bureau. But when brought up in conversation with friends back in Cape Town, glances of mirth and humour were exchanged.
I was curious to go and see for myself and so we headed west to the coast along 'Diamond Highway'. After dodging donkeys and potholes for 90 km we eventually arrived. This achingly remote little town felt akin to arriving at the end of the world.
Above: Lichen Biological Soil Crust: An example of our research subject. Photo © Zoë Chapman Poulsen.
Hondeklipbaai wins the award for the longest journey ever taken for a fish and chip shop that never seems to be open. It is named after the hondeklip or 'dog rock' that sits up above the town.
However, the poor dog has been rather traumatised during its history: In 1853 its ear was chopped off and taken to Cape Town to start the fictitious 'Dog's Ear Copper Company'. During the 1970s it also lost its nose as a result of a lightning strike.
The town is also known for the shipwreck of the fishing trawler Aristea, which ran aground in 1945, apparently, after the captain had a few too many drinks. We hunted for the shipwreck and couldn't find it and had a very narrow escape from being stuck there for the night after driving down a track that ended up in a sand dune.
Top: The 'Dog Rock" of Hondeklipbaai overlooking the town. Above: Newborn piglets on the farm. Photo © Zoë Chapman Poulsen.
It was with great relief that we finally arrived back home at Soutfontein Farm after this one of many Namaqualand adventures. I look forward to my next return trip to this beautiful, harsh and rugged region.
Taking Action
There are many environmental organisations based in Cape Town and beyond that require the services of volunteers to undertake their work. So if you have a little time to spare please get involved.