Planting a Wild Food Garden at Moya We Khaya
It is well known that growing your own food is one of the greatest moves that we can make towards eating truly green and sustainably. It cuts the food miles and puts people in control of their own diet destiny in a world where often some of the most 'sustainable' and 'ethical' large-scale supermarket brands still contain ingredients sprayed with vast numbers of chemicals and shipped across the globe, generating a huge carbon footprint.
Many people have taken the initiative and gardens and allotments brim with lovingly tended carrots and cabbage destined for local dinner tables.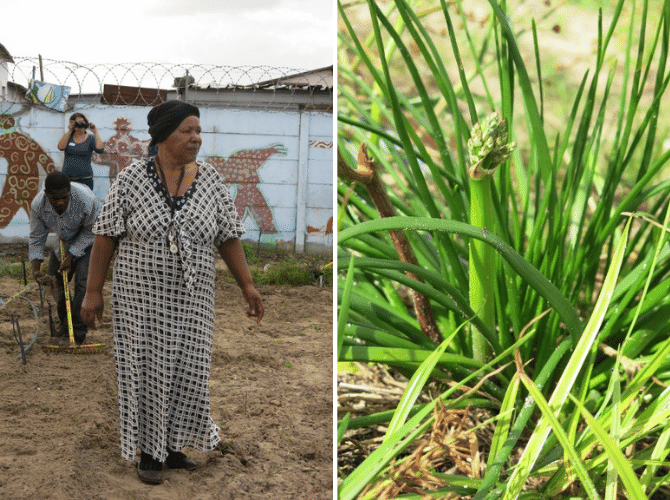 Top: Christine Kaba (Photo: Loubie Rusch). Above: Sandkool (Trachyandra divaricata). Photo: Loubie Rusch.
But what about indigenous edible foods? South Africa's natural vegetation or 'veld' as it is locally known, has many ingredients that can be used for eating. Thanks to the tireless work and innovation of South African chefs such as Kobus Van der Merwe of the famous Oep Ve Koep restaurant in the small West Coast village of Paternoster, Roushanna Gray from 'Veld and Sea' and Loubie Rusch of 'Making Kos' people are becoming more aware of the diversity of uses for local food foraged from the veld.
Top: Weeding couch grass ready for planting (Photo: Loubie Rusch). Above: Clearing the site. Photo: Loubie Rusch.
So how about bringing these indigenous edibles to your back garden? Loubie Rusch has recently started a new project to examine the potential of growing some of these plants as food crops.  Funding has come from the Sustainability Institute and the Peace Garden at Moya We Khaya in Khayelitsha has provided a home for a new indigenous food pilot garden. I went along to help with the planting and to find out more.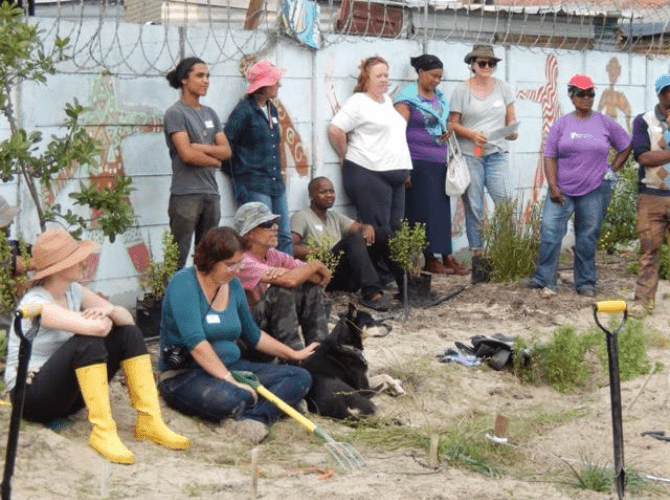 Loubie Rusch explains the background and key aims of the Cape Wild Food Garden at Moya We Khaya.Photo: Marijke Honig.
The Peace Garden at Moya We Khaya was founded by a small non-profit known as Abalimi Bezekhaya. One of their main roles is to encourage people to combat poverty through growing food sustainably and organically both at home and in community gardens in the townships of South Africa's Cape Flats.
Moya We Khaya in Khayelitsha is one of their oldest community gardens, and local residents grow food crops both for home consumption and to sell to Harvest of Hope, who sell boxes of organic, local seasonal veggies across Cape Town. Space here has been allocated to create the new indigenous food garden.
Two weeks ago more than twenty volunteers from all walks of life arrived to assist with planting the new Cape wild food garden. Many hands made light work on a beautiful autumn day to clear the site and plant all the new crop seedlings, grown by Cape Flats LIFE.
A total of seven different indigenous edibles were planted which included: Dune Spinach (Tetragonia decumbens), Dune Celery (Dasispermum suffruticosum), Veldkool (Trachyandra ciliata), Sandkool (Trachyandra divaricata), Soutslaai (Mesembryanthemum crystallinum), Sour Fig (Carpobrotus edulis) and Spekboom (Portulacaria afra).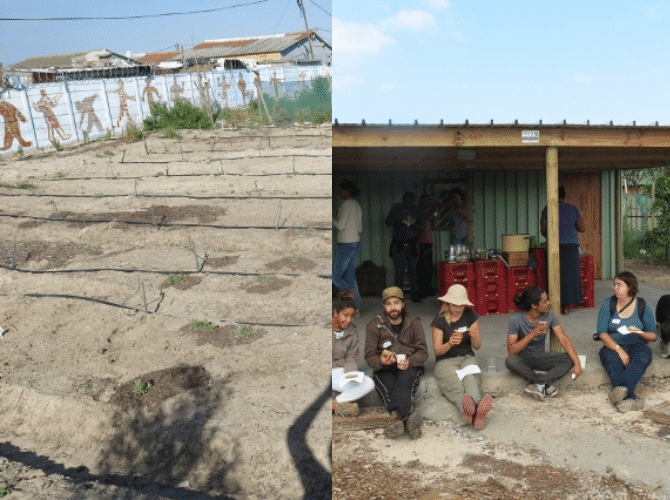 Top: The Cape Wild Food Garden after planting (Photo: Loubie Rusch). Above: Volunteers enjoying delicious Vichyssoise soup for lunch. Photo: Loubie Rusch.
The key aim of the pilot garden is to investigate how each of these indigenous edibles performs as food crops under different composting and watering regimes. Owing to their natural adaptation to growing in the tough, dry and sandy conditions of the Cape Flats, it is hoped that these plants will show potential to produce food using far fewer resources than traditionally grown food crops. Several Honours students from the Sustainability Institute will be monitoring the garden as part of their studies.
One of the highlights of the planting day was the delicious lunch served up to participants by Loubie Rusch, who is rapidly building a reputation for herself as one of Cape Town's foremost indigenous chefs.
We had delicious Vichyssoise soup for lunch containing many ingredients from Moya We Khaya, including Amaranthus and Chenopodium pulled as the beds were cleared of 'weeds' alongside locally collected Dune Spinach. This was served up with two delicious homemade spreads, including Baba Ganoush served with locally made Khayelitsha spinach bread.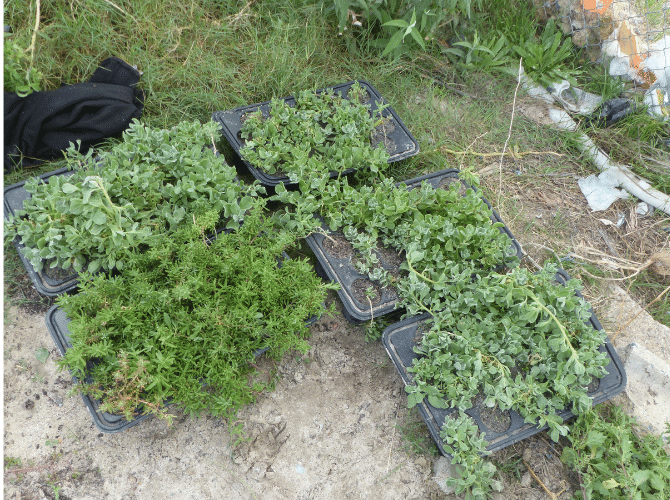 Seedlings of indigenous edibles grown by Cape Flats LIFE are ready for planting. Photo © Zoë Chapman Poulsen.
It is hoped that in the longer term the Cape Wild Food Garden at Moya We Khaya will inform the future cultivation of indigenous food plants that show potential as low maintenance, drought-tolerant food crops. All of these plants are being farmed for the first time in this pilot garden.
In future, it is planned to use the site at Moya We Khaya to host events and educate people about the potential to grow and cook with indigenous foods, including these resilient local crops to further develop the food growing economy on the Cape Flats and beyond.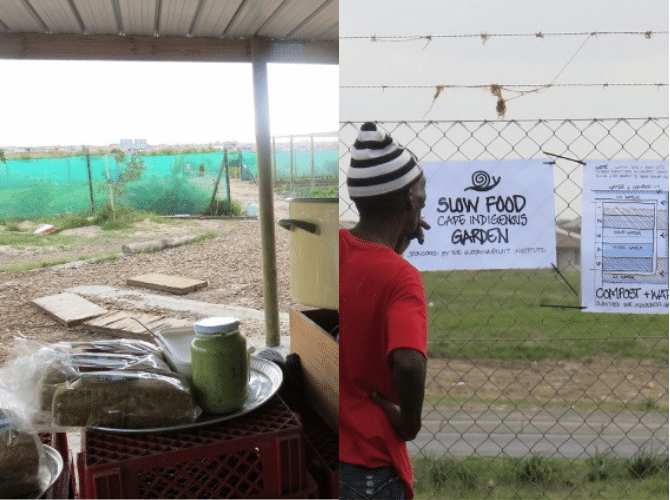 Top: Lunch is ready! A steaming pot of soup with locally baked spinach bread. Photo: Loubie Rusch. Above: Checking out the planting plan for the Cape Wild Food Garden. Photo: Loubie Rusch.
Taking Action
There are many environmental organisations based in Cape Town and beyond that require the services of volunteers to undertake their work. So if you have a little time to spare please get involved.